**** Kits are now sold out ****



This project appeared in the September 2003 issue of Amateur Radio magazine from the WIA . This kit is an updated version of the 80m MK1 kit and is based on an original concept by VK3MZ except that it is more sensitive, easier to construct and much more compact. See below for construction details.

Note that this is a FULL superhetrodyne SSB receiver, not a direct conversion design.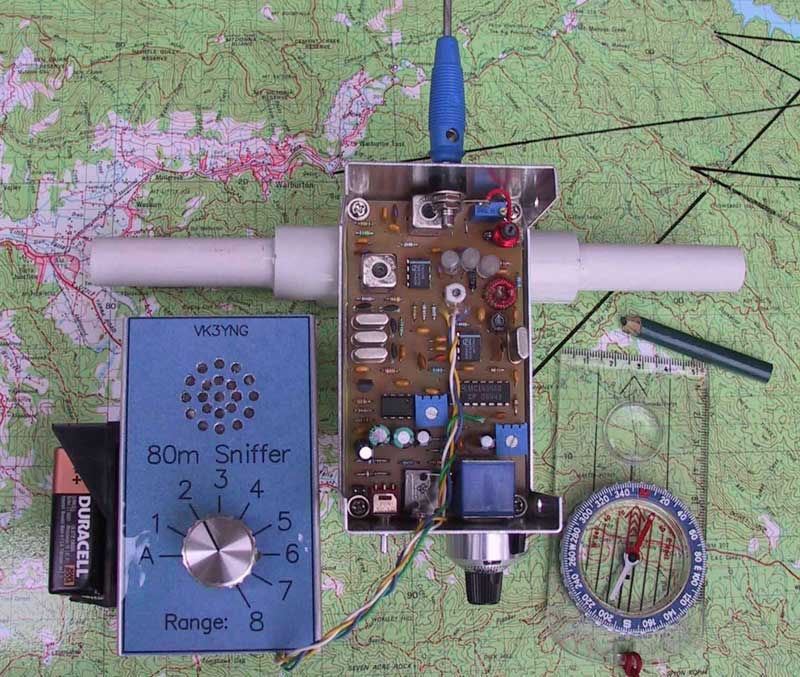 Kit Options:

If you are rolling your own receiver and need some of the more specialised parts mentioned in the project (Like the Toko coils, for example) please contact me as some parts still available.

At some stage soon I plan to make a full featured autoranging receiver based on a similar concept to the MK4 2m receiver.

Full details on the MK2 80m sniffer are provided here:



***

New ***

FAQ, tips and tricks page. - Includes known issues and suggested fixes for the current 80m sniffer.

80m Sniffer Manual

80m Sniffer Schematic

80m Sniffer PCB assembly

80m PCB artwork

80m box drilling detail

A manual Range Control for the 80m sniffer . (A PCB for this option was provided with every kit)

I have been experimenting with a prototype autorange add-on for the 80m MK2 sniffer. Since the kits are now sold out and I am considering a complete new receiver, it is unlikely this project will be taken much further.

---
80m MK1 sniffer:
This was the previous issue of the 80m sniffer featured above. It is no longer available due to the discontinuation of the Motorola MC13135 receiver chip. Information is provided here as reference for those who already have this sniffer.
Manual
Schematic
PCB overlay
There is a modification available to make the "whoopie" mode of this sniffer version more sensitive. These changes were provided by Bruce Paterson (VK3TJN). A marked up schematic of the changes as provided by Bruce can be found here.
back to foxhunt equipment/projects page